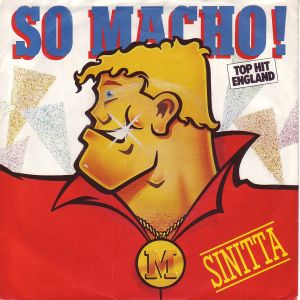 The Christian Party, based in Scotland, is firing back at the
atheist messages
delivered via London city buses with their own
public transport message
. The Christian Party's signs will say say: "There definitely is a God. So join The Christian Party and enjoy your life."
George Hargreaves, leader of the Scottish Christian Party, has funded this and other campaigns with royalties he continues to receive for co-writing and producing the 1980s
British hit
So Macho
, sung by gay icon Sinitta,
Pink News reports
.
(Stay with me, this comes full circle.)
In a
2007 interview with the

Times
, Hargreaves explained that he had a different "biblical understanding" at the time he wrote the song. Responding to criticism that Hargreaves uses money earned by producing a hit on the gay club scene to fund campaigns berating homosexuals, he told the
Times
:
It says in the Bible that so long as Earth remains there shall be seed time and harvest. You could say that So Macho was the seed I sowed and now I'm reaping the harvest.
To conclude this pleasing narrative arc, this whole bus business began because of an
anti-HPV vaccine ad
published in the
New Statesman
titled "VIOLENT CRIME - SOWING AND REAPING." Underneath the text read:
There is a Biblical principle that we reap what we sow. It applies to nations as well as to individuals. What politicians sow, the people reap. When politicians sow evil, the people reap misery, and the poorest reap it the worst.
It would seem that we are all slaves to the Bible's harvest.